what I'm currently using
(see below for more information)
---
I am often asked about the photography gear I use to capture my family and clients. I switched over to using a Fuji XT-2 to a Fuji XT-3 from a Canon 5dmiii in early 2017. For the last two years I have almost exclusively used Fuji cameras, and I have to honestly say that I am in LOVE. The colors are absolutely PHENOMENAL, and it is small, compact, and gets the job done every single time.
Biggest perks:
I have to say it again, the Fuji XT cameras are SMALL! I can easily carry it around daily and while vacationing and my shoulder and back do not want to give out. This is a huge change from my full frame photography gear, I would normally keep it in a bag instead of out to capture those fleeting magical moments

On a recent trip to Europe, I was able to fit my Fuji XT-2 with a 18mm f/2 lens inside my Fawn Designs Fawny Pack… it was absolutely amazing to have my camera hidden but easily accessible at all times!

The screen is "what you see, is what you get" therefore you can see on the fly if your settings are accurate
Great for all skill levels, and not intimidating to pass off to a stranger or a spouse (this is amazing as it lets everyone get in the frame!)
Amazing video capabilities, this is a new area for me and finding a camera that could handle video was critical for me
I love, love, love the Fuji colors! Even straight out of the camera the tones and colors just sing to my heart! I would be happy traveling with the camera in a .jpg setting and not feel compelled to shoot raw and edit each image
The built in interval timer is absolutely amazing… for those with many other camera models, I know I used to always lose my remote intervalometer all the time! (but make sure you have one if you want to get in the frame!) this feature has made a world of a difference in my ability to actually be in pictures with my family and friends
Things I wish it would have… but then it wouldn't be as small:
A larger sensor… the camera is a mirrorless camera and has a smaller sensor than that of a full frame camera, this means that it receives less light and therefore is more sensitive to a higher ISO, resulting in noise
A broader assortment of lenses- Fuji has all the critical lenses, but they are lacking some of the novelty lenses out there. What is great is that Fuji is transparent with their lens road map, and they are constantly producing new lenses
my lenses:
Fujinon XF18mm F2

This is the BEST travel lens for a Fuji camera! It is sharp and crisp and only slightly bigger than a pancake lens! Hello F/2! I could spend a whole trip shooting with this lens!

Fujinon XF8-16mmF2.8R LM WR Lens

I dreamed of this lens and it is everything I could want in a zoom lens and more. It is sharp, fast, and oh so beautifully wide! UM instant love!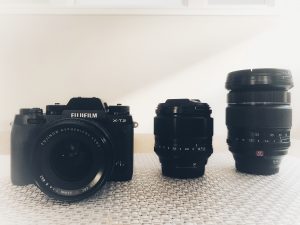 overview of my photography gear and fuji xt-2/3 must haves:
So if you want to see side by side how small the Fuji is versus a full frame DSLR here is a picture of them, small right!?! (the 23mm crop sensor lens is roughly equivalent to the full frame 35mm lens)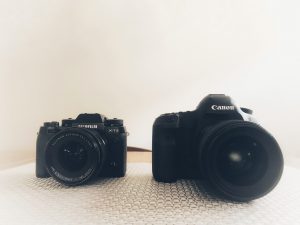 Can you believe the difference?! It is so nice to be able to throw it in my travel bag and carry it around with me!
Disclosure*: Some of the links provided are affiliate links. At no cost to you, if you click through and purchase I may receive a small commission.
SaveSave
SaveSave
SaveSave
SaveSave
SaveSave
SaveSave
SaveSave
SaveSave
SaveSave