I am still Team Fuji over here! The biggest changes to my gear has only been an increase to the number of lenses I own and of course an update to the latest Fuji X-T4.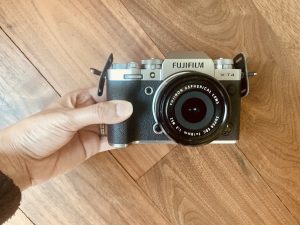 Most of the work you will see posted here on my website, commercial work, and social media content is produced using Fuji X-T4 with the Fujinon XF 18mm f/2 lens. (see picture above for how incredibly small my gear is!)
You can visit my earlier post to see my full listing of lenses, but hands down if you are in the market for a camera that is amazing:
Small and lightweight
The most gorgeous colors
Built in interval timer (critical so YOU can get in the frame too)
Fully articulating screen so you can get top down pictures and see yourself
Touch screen
Amazing focus tracking
What you see is what you get live shooting
You won't go wrong with this set up… I wanted to fall in love with a full frame mirrorless, and of course my heart still goes back to my old DSLR and film cameras, but the Fuji is the best of all worlds.
This is not sponsored in the least, just my honest thoughts!
Disclosure: Some of the links provided are affiliate links. At no cost to you, if you click through and purchase I may receive a small commission.